Exterior Cleaning
In addition to cleaning the interior of your house, office or retail space we also have exterior cleaning solutions.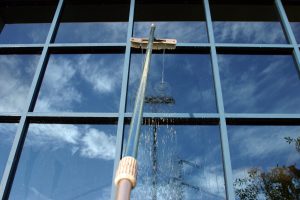 COMMERCIAL AND DOMESTIC WINDOW CLEANING:
We provide all aspects of commercial and domestic window cleaning services, using a combination of traditional hot soapy water and squeegee and the lastest window cleaning technology – Carbon Fibre Water Fed Poles (also known as Pure Water Systems). No chemicals are used, only purified water!
WHY WE LOVE USING THIS SYSTEM:
♥ Reduced Costs in window cleaning for you
♥ Faster cleaning times for larger contracts
♥ 25m reach without access equipment
♥ Eliminates the need for expensive cherry pickers (although we can provide if needed)
♥ Environmentally friendly
♥ No detergents needed
♥ Leaves windows smear, streak & spot free
♥ Health and Safety risks kept to a minimum


SURFACE CLEANING
○ Professional High pressure steam cleaning system
○ Variable steam temperature reaching 150°C
○ Kills bacteria, moss & algae
○ Pure Steam, no harsh chemicals
○ Steam clean paths
○ Steam clean Driveways
○ Steam clean Walls
○ Steam clean Soffits
○ Steam clean Fascias
○ Steam clean Gutters
○ Steam clean Patios
○ Steam clean Decking