Power Washing
POWER WASHING & PRESSURE WASHING (HOT & COLD)
Our brand new state of the art hot & cold washing system, along with offering unparalleled cleaning capability, is also more environmentally friendly as it doesn't require the use of dangerous chemical cleaners. It effectively removes dirt, moss, algae and weeds from all hard surfaces.
We stand ready to assist both domestic and commercial clients which a range of pressure and power washing services which are designed to bring the exterior of any property back to life. Popular services that we regularly undertake include: Patio and decking cleaning, roof and exterior wall wash downs, wall cleaning, driveway and path cleaning as well as gutters, facia and soffit boards, garden fencing, garden furniture and much more.
Our hot power washing system in addition to looking spotless, ensures that your premises is kept hygienic and sanitized. Our domestic, industrial and commercial power washing services will also sterilise killing off any harmful bacteria, mould or algae using high temperatures.
SURFACE TREATMENT (OPTIONAL FOLLOWING CLEANING)
Our long term surface treatment can be applied to control biological re-growths. This means your now clean surface will stay cleaner for longer. The treatment is effective against algae, lichen, fungi, moss and mould that cause red, green, yellow and black staining. Our solution is the strongest government approved softwash biocide of its type available in the UK and Ireland.  It is fully approved by the Irish Pesticides Registration & Controls Service for use in Ireland. Certificate number: 98070
♥ The powerful active ingredient is a similar purity to that used to disinfect hospitals
♥ Safe for children and pets once a treated surface is completely dry (use max 50:1 dilution to treat any surface children and animals may walk or play on)
♥ Can be used in conjunction with power washing as a post-treatment, or as a stand alone soft wash solution
♥ Has a residual biocide ability to prevent re-colonisation of porous surfaces
♥ Fully biodegradable
♥ Ph neutral, so safe for materials and gentle on people
♥ Controls algae, lichen, fungi, moss and mould
♥ Non-bleaching (contains no bleach or acids)
♥ Harmless to all known building materials
♥ Can be used as a pre-painting primer to kill algae and mould spores
♥ Helps control wet and dry rot on wooden buildings, sheds, fences and decking
♥ Up to 8x stronger than biocides sold to the general public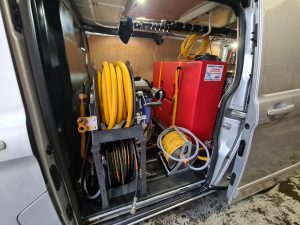 The results speak for themselves. Our high pressure system or soft wash gives dramatic results!